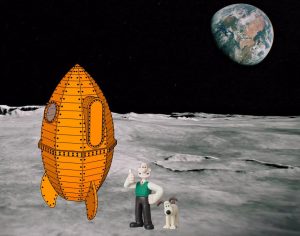 When I started planning this project, I was asking myself what could be fun for kids, have supporting media, and be short/easy.  I think I hit the first two perfectly, but I kept wanting to introduce new skills.  Before I was done, I realized I had created a monster, but a fun monster indeed.
Anyone can do this project, but it is helpful to have some prior SketchUp experience – explaining every move for a total beginner would result in something no one could use.  However, for those that don't, they can refer to my online indexed guide for all of SketchUp's moves and grooves.
Here is a brief excerpt from A Grand Day Out to get your students fired up.
You can stream the whole episode for free if you have an Amazon Prime account.
Here is a link to the playlist.  Enjoy!