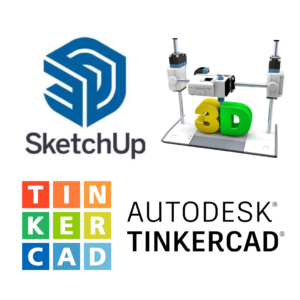 There seem to be frequent posts on Facebook regarding what to teach middle schoolers to keep them engaged.  I have replied to many of these posts with what I believe is a great answer, as have others, yet the same question keeps popping up.
So, let me be direct.  Middle school kids can smell "busy work" in a heartbeat.  Sites like code.org or Khan Academy are great, but if you are looking for something you can just assign and forget, you are doomed before you even begin.
Now, I am not calling anyone lazy or incompetent.  I spent the first half of my career teaching math.  I was provided a textbook, curriculum, and students prepped the year earlier.  My job was to fill in the weak spots from the past and fill up the kid's brains before passing them on.  That is not the world we tech teachers live in.  I understand the extra challenges.
Then I accepted my first position teaching high school CAD.  I had no training other than my college engineering classes, a lab that was a wreck, and low enrollment that I needed to raise the first year if I was to survive.  So, I jumped in and was literally one digital page ahead of the kids every day, but I loved learning new things and was never afraid to tell the kids that while I may not know the answer to their questions, I would find out.  That was very liberating as that answer was frowned upon in a math class.
My programs thrived for the next 20 years because I presented current, relevant lessons where the kids could stretch their tech muscles and be creative at the same time.  Parents loved as well that their kids were learning material that could be continued in high school and beyond. As for my principals, they had no idea what I was teaching, but everyone was happy and they left me alone (a huge plus).
I said I was going to be direct, but I also want to help.  I'm retired after 38 years in the classroom and now teach teachers.  It's fun and I don't have to go to any faculty meetings :-).  If a critical mass of you are interested, I'll write a free 4-week unit on 3D modeling.  It might be SketchUp or Tinkercad, with a lead into 3D printing.  I would post it on Canvas with each of you being one of my students.  You could then transfer the instructions and screencasts to your LMS to assign and grade student work.  You would be my "students" in Canva and the "class" would also serve as a place where we can go over common questions, ideas, etc.
I will answer any questions for your students that you cannot answer yourself.  If these 3D modeling programs are new to you, you will need to also do the lesson, but you'll learn as well in an easy guided manner.  If you decide you want to become more of an expert, you can take one of my online university classes for salary advancement credits. However, there is no obligation to take a class from me.  This is 100% free and hopefully will help and encourage some of you to expand your program with projects that will engage/excite students,  parents, and even admin.
Both SketchUp and Tinkercad are free, cloud-based, and run on anything with a web browser.  If you are using iPads, you really need a keyboard and mouse. If I had to pick one program, I would choose SketchUp first as it does more and everything is drawn true-size.  Tinkercad is cool too and it is easy to create basic models fast, but creating something complex can require some workarounds.  You also need to scale down TC models, such as a house, so they fit on a one-foot square 3D printer plate.
I am not going to use Facebook to manage this, so if you are interested, fill out this form.  This will be a lot of work for me, so while I enjoy teaching teachers, it is not worth it for just a few teachers.
3D modeling is something kids love.  It is creative, cutting edge, free, and leads to exciting careers. It is also where a lot of kids finally get math to click in their heads and answers their question, "When am I ever going to use this stuff?"  Later on, you'll want a 3D printer and I know lots about that, but that is for next fall.