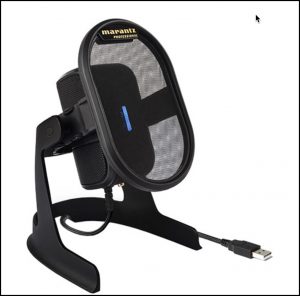 This is the video that I mentioned earlier on improving your videos by stepping-up your audio.  It is impossible for me to provide a one-step-fits-all solution, so consider this a start and if you have questions or want a recommendation, please let me know.
BTW, here are some links to some of the gear I mentioned.  I don't make any money off them, it's just what I use myself.  With tariffs, COVID and so many people looking to improve their audio for online meetings, prices have been higher this last year, but they are getting better slowly.  Some products are also back-ordered.
Sony Lavalier Mic. Some mics require power, others don't.  To avoid getting the wrong mic, choose one with free returns.  If your computer supports a mic 3.5mm input, this may be all that you need.
Blue Yeti USB Mic. I used one of these for 2-3 years and loved it until it stopped working.  Maybe I just got a bad one, but I replaced it with an AT2020 condenser mic and use a USB interface to connect it to my computer.
This is the USB mic I showed and I thought it was no longer made.  What I forgot was that they really jumped the price.  I used to get them for $20.  It's worth a little more than that, but not $100.  There are many choices for that price or less that are waaaay better.
If you have a question or comment, please reply here so all may benefit.  There should also be a link in this email to unsubscribe.
-ew