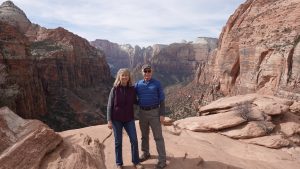 Well….what about me?  I retired in 2016 after 38 years in the classroom.  Now, I know what you're thinking, 38 years?  Yep, I find it hard to believe myself as there were hard years and…well, there were never any easy years, but they were all good and while I miss working with the kids, I don't miss the faculty meetings 🙂
I've taught everything from Architectural CAD to Algebra, from Woodshop to Web Design with the last 22 years being in technical subjects.  Now I find myself teaching teachers and I pride myself on trying to be as supportive as possible.  When a student completes one of my courses, it is my goal that they end up with skills and materials they can use the very next day.  It's impossible for anyone to write a course that will fit everyone, so I try to be as flexible as possible so you can adapt the lessons to your real classroom life.
In addition to teaching, I've built furniture commercially, built houses, and even found time to build a 200 M.P.H. 4-seat airplane from a book.
In 2004, I had the opportunity to accept a teaching position at Brussels American School, which serves families from about two dozen nations associated with NATO.  We were just going to stay for a year or two, but when we discovered what the school could offer our own young children, we decided to stay until they graduated, and then some!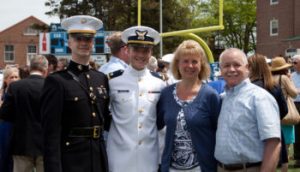 Pictured is my family.  Vicky is an R.N. and was the nurse at our school in Brussels.  David is next to her and graduated from the United States Coast Guard Academy in 2015 where he majored in some sort of math I'll never understand.  David served three years on cutters and is now flying C-130Js from the Coast Guard Air Station in Elizabeth Cty, NC.   Paul is next to him and graduated from the United States Naval Academy in 2014 with a degree in physics and is currently stationed at MCAS Miramar as a CH-53 pilot.  He is currently for his third 7-month deployment overseas.  I am the short, dumpy-looking fellow with the "I lucked out on the family lottery" look on his face.
During the summer of 2016, we decided to move back to the States and relax a little more.  The move went fine, but the "relaxing" part has yet to come as we are spending lots of time traveling to see family and such. 
For those keeping score,
Hometowns: Mukilteo, WA, Kortenberg, Belgium, and St. George, Utah
Education:
Western Governors University             
M.Ed. Learning and Technology
Washington State University  
B.A. Tech Ed (Double Major)
Professional experience:
Sherwood High School, Sherwood, OR    January 1977 – June 1977
Math, Woodworking, Metals, and Auto
Marysville-Pilchuck High School, Marysville, WA         September 1977 – June 1980
General Math and Algebra, Woodworking, Metals, and Auto
Marysville Middle School, Marysville, WA          September 1980 – June 1989
General Math and Occupational Versatility
Cedarcrest School, Marysville, WA        September 1989 – June 1996
Algebra, Geometry, and Gifted Math.
Marysville-Pilchuck High School, Marysville, WA         September 1996 – June 2004
Engineering & Architectural Computer Graphics and Computer Animation.
Brussels American School, Brussels, BE           September 2004 – June 2016
Engineering and Architectural Computer Graphics (CAD), Web Design, Digital Imaging, Desktop Publishing, Video Production, and Computer Animation.  Educational Technologist.
Home church: IPC, Brussels, Belgium, and Good Shepherd Presbyterian, St. George, Utah
So, that's a little about me for now. I look forward to hearing a little bit about you soon.