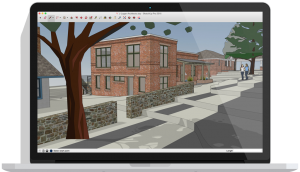 A year or two ago, Trimble released a web-based version of SketchUp. Branded as SketchUp Free, it was somewhat limited compared to the desktop version but now has blossomed into a decent version.  They discontinued free desktop version (Make 2017), but it can still be downloaded for a few more months.
Trimble then adapted the web version for education as SketchUp for Schools.  It is 95% the same as SketchUp Free with the main difference being that it uses Google Drive for cloud storage instead of Trimble Connect cloud storage(free).  The user/student must have a google account AND your district IT department must set it up for your school(s) to work with G-Suite for Education or Microsoft Education.  For most users, either version will do whatever you want it to for school, so just choose what works best for you.
The full-blown version of SketchUp Pro is still available for schools in states participating in the free grant program, so this is great news for schools that have more developed programs with computer labs.
For schools using Chromebooks, SketchUp Free or for Schools are the only options.  Files are freely interchangeable regardless of the version, but since software can't be installed on a Chromebook, the web-based version is the only option.  As long as you have a basic 3-button mouse, it runs well.  From what I've read, using just the trackpad really slows down the experience.
The int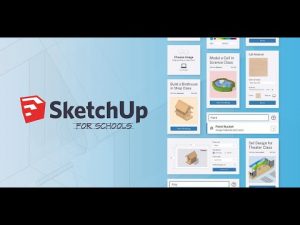 erfaces and menus do differ between the versions.  Most of the same keyboard shortcuts work as well which is about all I use whenever I can.  I did create an indexed demonstration for students of most of SketchUp's commands with the web version to help translate the commands between the versions.
[mc4wp_form id="316″]